In connection with our year-round anti-trafficking efforts, IN OUR BACKYARD (IOB) works to eradicate sex trafficking surrounding the Super Bowl through partnerships with top law enforcement, nonprofits and government agencies in host cities across America.
Linking Freedom In Our Backyard Event Details
As a part of our 10-day operation, we host Linking Freedom In Our Backyard; a one-day public awareness and outreach event in which we invite volunteers from the host city to participate in. Every year, missing children and victims of human trafficking are recovered because of this outreach and individuals are inspired to turn awareness into year-round action to stop human trafficking!
Event Components:

Program & Training: The beginning of the event will include a presentation on human trafficking and what usually happens with human trafficking surrounding the Super Bowl. It will conclude with training and preparation for the outreach component.
Outreach: The second portion of the event will involve volunteer teams of 2-4 people driving to local businesses (primarily convenience stores) on assigned routes and distributing key awareness materials, including Freedom Stickers and Missing Children's Books. These businesses become eyes and ears in the community to spot human trafficking and save lives. The outreach is immediately following the training and will be completed the same day.

When: January 26th, 2019, 8:30am-2:30pm

Check-in & Resource Fair — 8:30am
Program & Training — 9:15am
Outreach — 11:30am – 2:30pm

Where: Mt. Paran Church: 2055 Mt. Paran Road NW, Atlanta, GA 30327
Please note: participants MUST register in order to volunteer for Linking Freedom In Our Backyard. 
Click here to learn about about sponsorship opportunities!
Super Bowl & Human Trafficking
Statements have been made that the Super Bowl is the largest human trafficking event. Some have also asserted that sex trafficking does not increase surrounding the Super Bowl. These are both myths. Human trafficking happens 365 days a year in every zip code in the United States and does increase surrounding large events. We do know the party atmosphere surrounding any large event such as a concert, convention, or sporting competition can lead to an increase in the purchase of adults and even children for sex. Traffickers may bring victims from out of town to satisfy the increase in demand from sex buyers. They also capitalize on the energy generated by the event to lure unsuspecting event-goers as new victims.

Celebrating a

decade

of work surrounding the Super Bowl!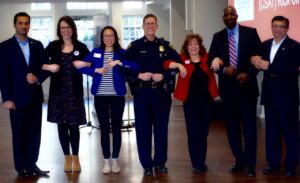 2019 is IN OUR BACKYARD's 10th year of conducting our program surrounding the Super Bowl. The purpose is to create a pathway of FREEDOM for those trapped in human trafficking. The goal of the cooperative efforts is to bring attention to this atrocity and come alongside the host community as we take coordinated and effective action to stop human trafficking surrounding the Super Bowl and beyond. IOB recognizes geography, climate, politics, culture, socioeconomic, gender, and racial factors have implications on how we collaboratively address human trafficking. IOB's objectives for this program are to:
Bring nine years of expertise to the host community about what "normally" happens regarding human trafficking at large events, dispel myths, and share best practices from previous years

Reach out to and aid in recovery of victims of human trafficking through safe and coordinated efforts with law enforcement, government agencies, and reputable service providers

Train and mobilize the business community, with particular emphasis on convenience stores in conjunction with IOB's Convenience Stores Against Trafficking program, to recognize and safely report missing and endangered children and potential trafficking situations

Conduct a community-wide outreach event (Linking Freedom In Our Backyard), distributing Freedom Stickers and Missing Children Booklets, to raise public awareness of human trafficking and empower individuals to take well-informed, safe and meaningful action to stop human trafficking

Raise awareness in the host city by offering speakers for events who have extensive experience both in anti-human trafficking efforts and how those efforts intersect with Super Bowl

Work to raise awareness of the truth about human trafficking through interviews and media coverage, both locally and nationwide
Highlights & Victories from

Linking Freedom In Our Backyard

2018:
Click Here to view our Super Bowl 2018 Report for more victories and information!
Please note: IOB has no way of knowing if our literature directly led to the recovery tips, but now these youth are safe!

1500 Freedom Stickers were posted in convenience stores throughout the Twin Cities, providing a pathway to freedom for victims of human trafficking

2500 Missing Children's Books were distributed across the Twin Cities metro
Volunteers shared excitedly about the value of the program and their appreciation for being able to play a vital role to stopping human trafficking: Check out their videos below:
What can you do the other 364 days of the year? 
Click Here for 10 things you can do to fight human trafficking on a daily basis, no matter where you live!
For more information contact info@inourbackyard.org
Follow us on Twitter, Instagram and Facebook @inourbackyard