Does human trafficking increase at the Super Bowl?
Super Bowl and Missing Children Outreach surrounding large scale events
Human trafficking happens 365 days a year with cases reported in all fifty states. Surrounding large scale events, such as the Super Bowl, traffickers capitalize on the opportunity to abuse and exploit individuals for their own profit. Host cities of the Super Bowl experience an increase of party-like events the week leading up to the big game. This often leads to an increase in the purchase of adults and children for sex.
"The Super Bowl doesn't increase trafficking, sex buyers increase trafficking"
~ Nita Belles, IN OUR BACKYARD Founder and President.

Since 2010, Linking Freedom IN OUR BACKYARD was established to prevent traffickers from capitalizing on the energy generated by the event to exploit victims. During a ten day operation surrounding the Super Bowl, host city communities are equipped through education, mobilization, and partnership to erradicate human trafficking.
1. Education: A one-day public awareness and outreach event in which every member of the community is invited from the host city to participate. This includes a Human Trafficking 101 training focusing on prevention in the U.S. (1 in 6 missing children are reported to be trafficked)
2. Mobilizes: Immediately after the training, registered at no cost, volunteers are assigned routes to visit local convenience stores where they distribute IOB materials and missing children booklets so employees can keep an eye out and report any missing children and others who may be trafficked to law enforcement and the Linking Freedom In Our Backyard command post.
3. Partnership: A trained and experienced working group operates a command post consisting of vetted nonprofits, government agencies, corrections, and top law enforcement streamlining verified intelligence to innovate a pathway to freedom for survivors of human trafficking.
Every year, missing children and victims of human trafficking are reported as no longer missing because of this outreach, and individuals and groups are inspired to turn awareness into year-round action to stop human trafficking.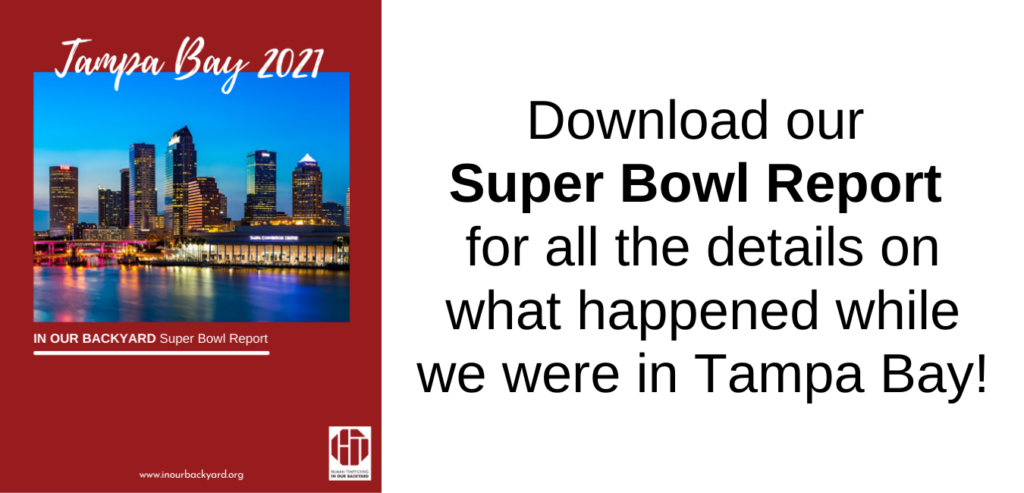 Twelve Years of Victory!
Highlights & Victories from Linking Freedom In Our Backyard 2019:
Engaged more than 400 volunteers in anti-trafficking education and advocacy
Throughout the Atlanta metro, more than six-hundred convenience and corner stores were equipped to recognize and report human trafficking. An additional 1,281 are being trained through partnerships with the Georgia Association of Convenience Stores and Atlanta Retailers Association.
Store managers and clerks provided two very valuable tips on missing children from IOB's materials, which were immediately turned over to law enforcement and the National Center for Missing & Exploited Children for further investigation.
15,000 Missing Children's books were distributed predominantly to convenience stores and official Super Bowl volunteers throughout the Atlanta Metro via the IOB team and our partners at IHTI.
13 of the 34 children in IOB's Missing Children's book were recovered within one week of the Super Bowl.
Through collaborative efforts, IOB placed 1,200 Freedom Stickers in restrooms stalls during its outreach event, creating a pathway of FREEDOM for those trapped in HT.
IOB released a 3-minute film showing the effectiveness of our Freedom Stickers ahead of Super Bowl LIII, which has been acclaimed as one of the best HT films ever produced and won the International Telly Awards Silver Award.
IOB's work was featured by BBC America, CNN Freedom Project, NPR, and others.
IOB provided six qualified leads and 123 tips on victims of trafficking to law enforcement.
FBI, in partnership with IOB and many other agencies, announced 169 arrests, including 26 alleged sex traffickers and 34 who allegedly attempted to engage in sex acts with minors and 9 recoveries of minor victims in their 11-day pre-Super Bowl operation.
13 IOB volunteers participated in nine, street, bus, strip club, and online outreach events with Dream Center ATL. Seven adult victims left their situations through their efforts!