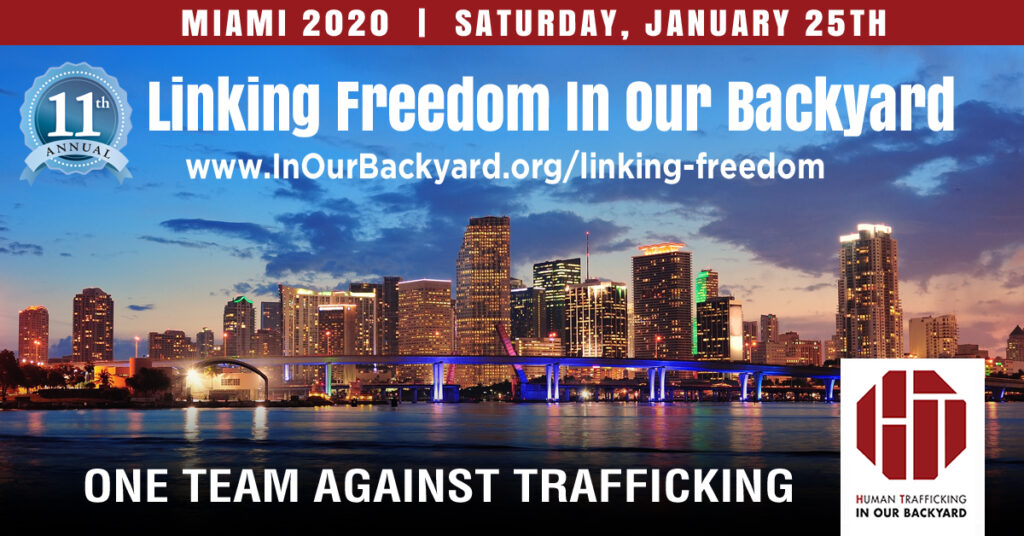 In connection with our year-round anti-trafficking efforts, IN OUR BACKYARD (IOB) works to eradicate sex trafficking surrounding the Super Bowl through partnerships with top law enforcement, nonprofits and government agencies in host cities across America.
ONE TEAM AGAINST TRAFFICKING


 

Event Details
ONLINE REGISTRATION IS NOW CLOSED, but we still would love to have you attend! If you would like to participate, register in person at St. Thomas University on Saturday, Jan 25th at 8 am.
As a part of our 10-day operation, we host ONE TEAM AGAINST TRAFFICKING; a one-day public awareness and outreach event in which we invite volunteers from the host city to participate. Every year, missing children and victims of human trafficking are recovered because of this outreach, and individuals are inspired to turn awareness into year-round action to stop human trafficking!
Event Components:

Program & Training: The beginning of the event will include a presentation on human trafficking and what usually happens with human trafficking surrounding the Super Bowl. It will conclude with training and preparation for the outreach component.
Outreach: The second portion of the event will involve volunteer teams of 2-4 people driving to local businesses (primarily convenience stores) on assigned routes and distributing key awareness materials, including Freedom Stickers and Missing Children's Books. These businesses become eyes and ears in the community to spot human trafficking and save lives. The outreach is immediately following the training and will be completed the same day.

When:

January 25th, 2020

Main Program Featuring Guest Speakers and Survivors: 
9:00 a.m.–10:30 a.m.

Reception and Resource Fair:  10:30 a.m.–11:00 a.m.

Human Trafficking Training OR Convenience Store Outreach: 11:00 a.m.–2:00 p.m.

Where: The John J. Brunetti Human Trafficking Academy of  St. Thomas University School of Law
IN OUR BACKYARD is proudly partnering with the following organizations for this event: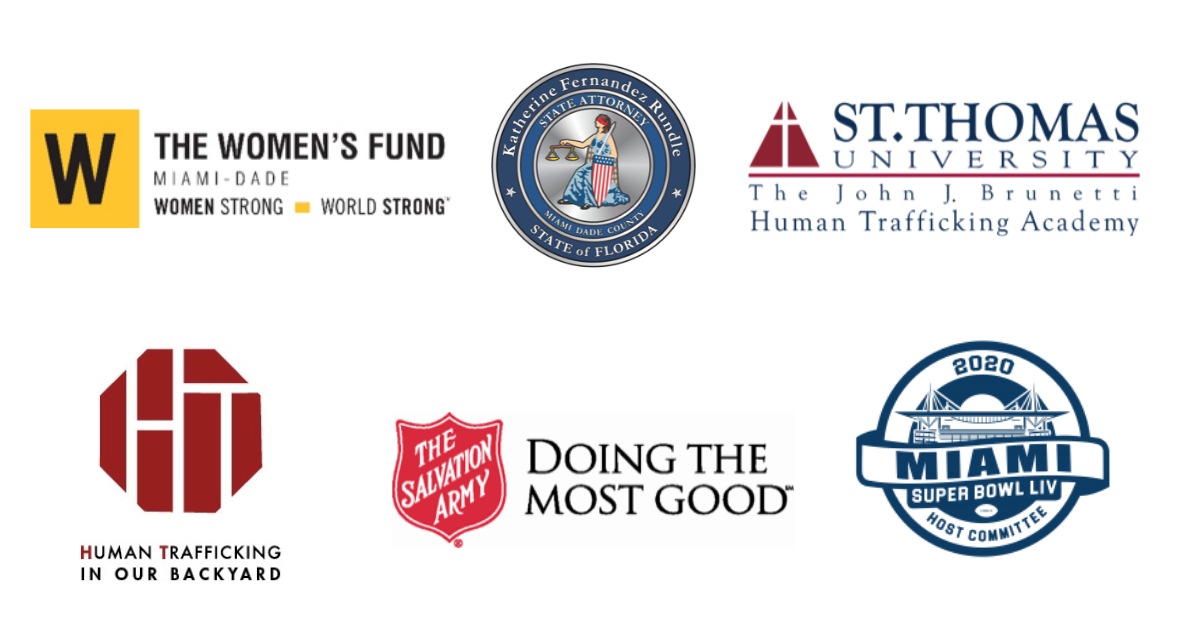 Super Bowl and Human Trafficking
Statements have been made that the Super Bowl is the largest human trafficking event. Some have also asserted that sex trafficking does not increase surrounding the Super Bowl. These are both myths. Human trafficking happens 365 days a year in every zip code in the United States and does increase surrounding large events. We do know the party atmosphere surrounding any large event such as a concert, convention, or sporting competition can lead to an increase in the purchase of adults and even children for sex. Traffickers may bring victims from out of town to satisfy the increase in demand from sex buyers. They also capitalize on the energy generated by the event to lure unsuspecting event-goers as new victims.

Highlights & Victories from

Linking Freedom In Our Backyard

2019:
Engaged

more than 400 volunteers

in anti-trafficking education and advocacy

Throughout the Atlanta metro,  more than

six-hundred convenience and corner stores were equipped

to recognize and report human trafficking. An

additional 1,281 are being trained

through partnerships with the Georgia Association of Convenience Stores and Atlanta Retailers Association.

Store managers and clerks provided

two very valuable tips on missing children

from IOB's materials, which were immediately turned over to law enforcement and the National Center for Missing & Exploited Children for further investigation.

15,000 Missing Children's books were distributed

predominantly to convenience stores and official Super Bowl volunteers throughout the Atlanta Metro via the IOB team and our partners at IHTI.

13 of the 34 children in IOB's Missing Children's book were recovered

within one week of Super Bowl.

Through collaborative efforts, IOB

placed 1,200 Freedom Stickers

in restrooms stalls during its outreach event,

creating a pathway of FREEDOM for those trapped in HT.

IOB released a 3 minute film

showing the effectiveness of our Freedom Stickers ahead of Super Bowl LIII, which has been acclaimed as one of the best HT films ever produced and won the International Telly Awards Silver Award.

IOB's work was featured by

BBC America, CNN Freedom Project, NPR,

and others.

IOB provided

six qualified leads and 123 tips on victims of trafficking

to law enforcement.

FBI, in partnership with IOB and many other agencies, announced

169 arrests, including 26 alleged sex traffickers and 34 who allegedly attempted to engage in sex acts with minors and 9 recoveries of minor victims

in their 11-day pre-Super Bowl operation.
13 IOB volunteers participated in nine, street, bus, strip club and online outreach events with Dream Center ATL. Seven adult victims left their situations through their efforts!
What can you do the other 364 days of the year? 
Click Here for 10 things you can do to fight human trafficking on a daily basis, no matter where you live!
For more information contact info@inourbackyard.org