---
 What are Freedom Stickers?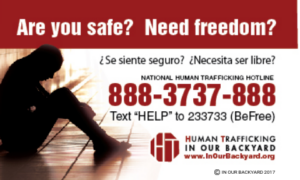 Strategically placed in public restrooms across the country, Freedom Stickers bring public awareness and provide a lifeline of hope to victims of human trafficking. According to a 2016 study from Northeastern University, one of the most effective ways to increase human trafficking arrests is by posting the National Human Trafficking Hotline in public places. The safest place for a victim of human trafficking to ask for help is inside of a public restroom stall, according to research. Freedom Stickers were created in collaboration with human trafficking survivors and our hope is that a human trafficking victim would see a Freedom Sticker and have an opportunity to call or text the hotline and have help on the way! Request your Freedom Sticker packet today and become a Freedom Sticker Hero! If you would like to request Freedom Stickers you must be 18 years of age or older, or have permission from a parent of legal guardian.
If you would like to make a donation in support of this ongoing work, please donate today!
In Our Backyard Freedom Stickers from In Our Backyard on Vimeo.
History
Freedom Stickers have been used in Central Oregon since 2011. In 2015 IN OUR BACKYARD Founder and Executive Director, Nita Belles was approached by Oregon State Representative Whitsett's office and asked to advise them on a bill that would include the posting of The National Human Trafficking Hotline. Bill 3143 requires that Freedom Stickers go out with every renewed liquor license in the state of Oregon. The Freedom Sticker was designed by a human trafficking survivor and has proved to be one of the most effective ways to combat human trafficking. Freedom Stickers have been implemented in all 50 states with more than 150,000 Stickers distributed. IN OUR BACKYARD would like Freedom Stickers to be placed in every public restroom across America. We are asking for your help to meet this goal. Order your Freedom Sticker packet today and become a Freedom Sticker Hero!
If you would like your state to adopt a bill similar to Oregon's Freedom Sticker Bill contact info@inourbackyard.org
Testimonials