We are raising FUN(ds)! all of October and we need your help to reach our goal of raising $75,000! With your support, we can sustain our programs which provide resources to students to keep them safe and provide awareness of human trafficking; continue on our mission to have Freedom Stickers posted in every bathroom across the U.S.; and train and empower individuals to recognize the signs of human trafficking.
Now, more than ever, we need your support to shine a light of hope to prevent and stop the horrific crime of human trafficking.

How to spread the word:
And be sure to share!
Our Teens Against Trafficking Resource Guide helps youth understand the lifelong repercussions of their seemingly temporary decisions. It also helps them understand what is and is not appropriate in relationships so that they can recognize false promises traffickers may make and be strong enough to say "No," to those who will hurt them. This is excellent preparation for self-protection against predators of all kinds as teens continue their independence after high school.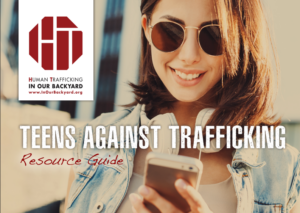 Purchase your Teens Against Trafficking Resource Guide

here
National Human Trafficking Resource Center Hotline: 1.888.3737.888
or text INFO or HELP to BeFree (233733)
IN OUR BACKYARD proudly is sponsored by: