Human Trafficking Prevention Bill Implemented in Oregon State!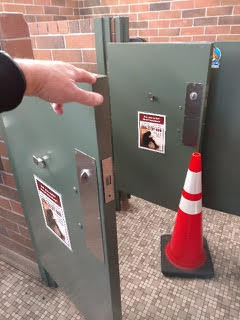 IN OUR BACKYARD worked with legislators to pass Senate Bill 375 which calls for posters r
eplicated from our 
Freedom Stickers to be placed in all Travel Information Center managed rest areas in Oregon. This bill was signed into law in 2017 and is now being implemented!
We are working with state officials who are posting and will maintain these life-saving posters. As of mid-November, the posters will have been installed all along the I-5 Corridor in Oregon and in every rest area under the supervision of the Oregon Travel Experience.
Senator Hansell, who sponsored the bill, said, "I am so glad these posters have been installed in the rest areas…human trafficking is an epidemic that must be stopped. It is a terrible practice and a horror that is in every city and community nationwide. Most sex trafficking occurs at rest stops along the Interstates…Anything we can do to combat this heinous, insidious practice should be done…Even if just one individual is saved from these posters, SB 375 would have been well worth it." Click here to read more.
Linking Freedom In Our Backyard
Atlanta, GA 01/26/2019
National Human Trafficking Resource Center Hotline: 1.888.3737.888
or text INFO or HELP to BeFree (233733)
IN OUR BACKYARD is sponsored by: