What is Human Trafficking (HT)?
Education on what human trafficking is and how to recognize it is one of the most important actions we can take to stop this atrocity.
Sex Trafficking: Commercial sex act induced by force, fraud or coercion, or in which person performing the act is under age 18.
Labor Trafficking: Using force, fraud or coercion to recruit, harbor, transport, obtain or employ a person for labor or services in involuntary servitude, peonage, debt bondage or slavery.
Human Trafficking Statistics
It may come as a surprise to learn that the National Center for Missing and Exploited Children estimates that well over one hundred thousand children are trafficked yearly in America.[i] While many of these young victims are runaways or kids who've been abandoned, others are from what would be considered "good" families and have been lured or coerced into human trafficking by clever predators. "These predators are particularly adept at reading children, and knowing what their vulnerabilities are," says FBI Deputy Assistant Director Chip Burrus, founder of Innocence Lost, a project addressing child- and teen-sex trafficking.[ii]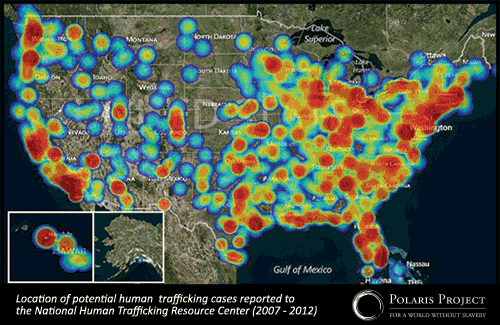 Authorities estimate that:
There are 27 million slaves in the world today.[i] More slaves than during the trans-Atlantic slave trade.
Human trafficking is tied with arms dealing as the second largest criminal enterprise and is the fastest growing.[ii]
About 80 percent of all trafficked individuals are female, about 50 percent are children.[iii]
70 percent of those female victims are trafficked for sexual exploitation.[iv]
Between 244,000 and 325,000 American youth are considered at risk for sexual exploitation, and an estimated 199,000 incidents of sexual exploitation of minors occur each year in the United States. [v] The above figures, however, are limited estimates of youth at risk for human trafficking and do not take into consideration adult U.S. citizens trafficked for sex or American children and adults trafficked for labor.[vi]
Each year an estimated $150 billion is generated by victims of human trafficking, $99 billion in sex trafficking and $51 billion in other forms of trafficking.[vii]
Each year, between 14,500 and 17,500 people are trafficked into the U.S. from other countries.[viii]
One study estimates 30% of shelter youth and 70% of street youth are victims of commercial sexual exploitation. They may be coerced into prostitution for "survival sex" to meet daily needs for food, shelter, or drugs.[ix]
Nationally 450,000 children run away from home each year. 1 out of every 3 teens on the street will be lured toward sex trafficking within 48 hours of leaving home. Statistically, this means at least 150,000 children lured towards sex trafficking each year.[x]
Average age of entry into sex trafficking is 12-14 for girls, and 11-13 for boys. (Although, some of us in the field believe the ages may be higher and there are pending studies on the topic).[xi]
One study out of Portland, Oregon found that 96.4% of the victims in the study were female, close to 2.8% were males and 0.9% were transgender[xii]
The same study found that 49.1% of the youth who were served by social services had a gang connection.[xiii]
Why Don't Victims Seek Help?
Captivity, confinement, isolation. Victims have been locked in rooms, trunks of cars, and other inappropriate places and isolated from friends and family.
Use and threat of violence. Victims and their loved ones have been beaten, raped, tortured, assaulted and threatened.
Fear, shame, self-blame, hopelessness. Victims have been so traumatized that they blame themselves for their abuse and/or see no way out of the situation.
Dependency. A trauma bond develops between victims and perpetrators.
Human Trafficking Language
Please take a look at an article by Lisa Thompson regarding the language we use to talk about human trafficking and those involved.
A Preface to the "Chart of Preferred Terminology for Sex Trafficking and Prostitution" Lisa L. Thompson Vice President and Director of Education and Outreach National Center on Sexual Exploitation.
Intro Chart of Preferred Terminology – RVSD – MRG – FN – 2016 (1)
References:
[i] Kevin Bales. Disposable People. University of California Press, Berkeley and Los Angeles, 1999, p. 8.
[ii]https://www.state.gov/documents/organization/123357.pdfhttp://www.hhs.gov/news/factsheet/humantrafficking.html
[iii] Victims of Trafficking and Violence Protection Act of 2000: Trafficking in Persons Report. U.S. Department of State, 2020. https://www.state.gov/reports/2020-trafficking-in-persons-report/
[iv] "Assessment of U.S. Activities to Combat Trafficking in Persons 2004." June 2004. http://www.justice.gov/archive/ag/annualreports/tr2004/us_assessment_2004.pdf
[v] (Estes & Weiner, 2001). http://aspe.hhs.gov/hsp/07/humantrafficking/litrev/
[vi] http://aspe.hhs.gov/hsp/07/humantrafficking/LitRev/ https://sgp.fas.org/crs/row/R44953.pdf
[viii] "2020 Trafficking in Persons Report." U.S. Department of State. https://www.state.gov/reports/2020-trafficking-in-persons-report/
[ix] Commercial Sexual Exploitation of Children in the U.S., Canada, and Mexico, op. cit., n. 4, page 131. See also J. Greene, S. Ennett, and C. Ringwalt. (1999) "Prevalence and correlates of survival sex among runaway and homeless youth." American Journal of Public Health. 89(9) page 1406. http://sharedhope.org/wp-content/uploads/2012/09/ArizonaRA.pdf
https://rems.ed.gov/docs/Human%20Trafficking%20101%20for%20School%20Administrators%20and%20Staff.pdf, National Center for Missing and Exploited Children https://www.missingkids.org/home, U.S Department of Homeland Security https://www.dhs.gov/blue-campaign
[xii] [xiii] http://www.justice.gov/usao/or/downloads/the_csec_report.pdf
[i] Written Testimony of Ernie Allen, Former President and Chief Executive Officer, National Center for Missing and Exploited Children for the U.S. House of Representatives Subcommittee on Crime, Terrorism and Homeland Security Committee on the Judiciary on 'Domestic Minor Sex Trafficking', Washington DC, September 15, 2010.[ii] "Teen Girls' Stories of Sex Trafficking in U.S." ABC Primetime, February 9, 2006. http://abcnews.go.com/Primetime/story?id=1596778&page=1