TEAM UP with IN OUR BACKYARD to Link Arms Across America in the Fight Against Human Trafficking. Participate in a one-day public awareness and outreach event in which every member of the Pheonix, Arizona community is invited to participate and make a tactile difference as the 2023 Super Bowl Host City.
Registration is free! Bring a friend, all ages are welcome, and everyone recieves a free event t-shirt. Together, we will raise awareness by passing out life saving materials to local convenience stores.
For the past thirteen years, this event creates a positive impact for anyone to do something "tangible" that empowers the community, survivors, and local nonprofits in the fight against human trafficking. Don't miss this opportunity to make a difference. See details below. 
Register for this Free Event:
REGISTRATION IS FREE! YES! YOU GET A FREE T-SHIRT!
This one-day public event protects at-risk missing children from being trafficked.  A 45-minute volunteer training will equip participants to canvas the community to visit 5 local convenience stores on a local area local route.
1 Day  1 City  5 Stops
Event Schedule: 
9:00 am: Community Specific Human Trafficking 101 training. Child sex trafficking survivor leader Cheryl Csiky, Executive Director of IN OUR BACKYARD, will prepare volunteers for their assigned routes. 
10:00 am: This training is recommended for ages 10+. (Those between ages 10-17 must be accompanied by a parent/adult.) Volunteers must provide their assigned route transportation. On average, one outreach route is completed within one hour, visiting 5-6 stores after leaving the training.
Why Convenience stores?
Convenience stores care about the community and are the eyes and ears for community safety! Many survivors of human trafficking say they were brought to convenience stores every day while being exploited. Late hours of operation, public restrooms, and selling merchandise for basic needs uniquely position convenience store employees to watch for and report signs of human trafficking. Tips are generated every year from this outreach and provided to local law enforcement and the National Center for Missing and Exploited Children. Check out last year's event in Tampa Bay and IOB on CNN! (links below)
Yes! You will get a T-shirt! Freedom T-shirts are available on a first-come, first-serve basis for walk-in registration. Groups are welcome to share a route! Tell a friend!


In connection with our year-round anti-trafficking work, IN OUR BACKYARD (IOB) has worked for the last 13 consecutive years to eradicate sex trafficking surrounding the Super Bowl through partnerships with top law enforcement, local nonprofits, and government agencies in host cities across America. Request the SBLVI 2022 Executive Summary by contacting info@inourbackyard.org today!
Does human trafficking increase at the SUPER BOWL?
Statements have been made that the Super Bowl is the largest human trafficking event of the year. Some have also asserted that sex trafficking does not increase surrounding the Super Bowl. These are both myths. The truth is, human trafficking happens 365 days a year everywhere in the United States and does increase when there is increased demand due to conventions, as well as sporting and entertainment events that attract predominantly male populations with disposable income. The Super Bowl is not the cause of sex trafficking, but it has become a catalyst to fight it in host cities across America over the last 13 years.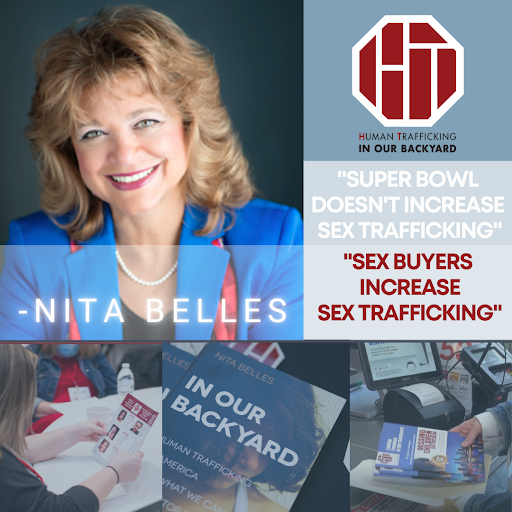 Report Sources: 
2022 Media:
Since 2010, IN OUR BACKYARD prevents traffickers from capitalizing on the energy generated by the event to exploit victims. During a ten day operation surrounding the Super Bowl, host city communities are equipped through education, mobilization, and partnership to erradicate human trafficking.
This year, IOB was honored to come alongside leaders already doing incredible work to stop human trafficking in Inglewood, CA. Highlights of our "TEAM UP IN OUR BACKYARD" collaborative efforts in Inglewood, CA for SBLVI 2022 including a one-day Missing Children and Anti-trafficking outreach event in which every member of the community was invited from the host city to participate. Immediately after the training, registered at no cost, volunteers assigned routes to visit local convenience stores distributed IOB materials and missing children booklets so employees could keep an eye out and report any missing children and others who may be trafficked to law enforcement and the IN OUR BACKYARD command post. Materials were also distributed surrounding So-fi Stadium on Super Bowl Sunday. Thank you to SLAATC, FCI, and Center of hope for an amazing event. 
In collaboration with local law enforcement a trained and experienced working group operated the IOB command post consisting of vetted nonprofits, government agencies, corrections, and top law enforcement streamlining verified intelligence to innovate a pathway to freedom for survivors of human trafficking.
Every year, missing children are reported as no longer missing. Individuals and groups are inspired to turn awareness into year-round action to stop human trafficking.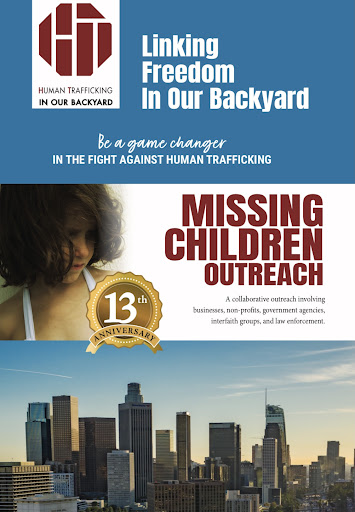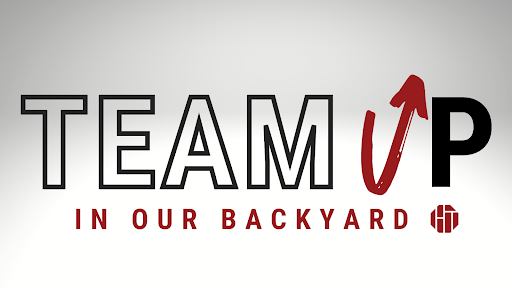 Victories of TEAM UP with IN OUR BACKYARD 2022 Inglewood, CA SBLVI
January 28th-February 12th, 2022
TRAINING: 300 convenience and corner stores were equipped to recognize and report human trafficking throughout the Greater Los Angeles area and 1,335 citizens trained. 
EDUCATION: 5,000 Missing Children's booklets were distributed predominantly to convenience stores by volunteers throughout the Los Angeles area, and surrounding So-Fi Stadium on Super Bowl Sunday. 
AWARENESS: OVER 1.1 million reached with National Human Trafficking Hotline 
MOBILIZATION: Through collaborative efforts, IOB placed 3,000 Freedom Stickers in restroom stalls during  events, creating a pathway to FREEDOM for those trapped in human trafficking. 
UP: INCREASED PREVENTION THROUGH PARTNERSHIP: When we prevent one, we prevent many! 25 volunteers and 1 survivor leader scholarship granted along with anti-trafficking intelligence experts, command post education, collaboration, and advocacy served inside the IOB ten-day command post operation, working diligently around the clock to increase potential cases of individuals who harm through human trafficking criminal activity and identify minors and adults at risk of trafficking: 
17 of the 36 children were reported recovered by NCMEC and Law Enforcement within one week of Super Bowl. LASD reported 182 arrests of aledged sex buyers, 30 suspected traffickers and 65 adults and 7 minors recoveries reported. 

IOB supported law enforcement efforts identifying

113 verified IOB trafficking leads including 24 suspected minors

to law enforcement as potential cases. 
WE HAVE PARTNERED WITH DAKTRONICS
For Super Bowl and 365 Days a year!
We have partnered with the creative team at Daktronics – digital display technology allows you to keep your customers and your community informed and empowered to report suspicious and potentially harmful activity. They have created a free library of digital signage content for any small business or convenience store! Thank you!
Our hope is that together we can keep our communities informed and safe.
CHECK OUT LIBRARY CONTENT HERE!
Check out the billboard in South L.A. featuring the incredible work of Daktronics!

Join the mission! Super Bowl is one day a year securing positive impact for a lifetime by creating safer communities for children and vulnerable adults. Law Enforcement, nonprofit/agency experts, survivor leaders, and IOB volunteers served over 1,000 hours in ten days!  Prevent human trafficking 365 days a year by becoming a Freedom Partner! $1 a day through  monthly giving sustains the mission to stop human trafficking IN OUR BACKYARD. Will you link arms with us?