Teens Against Trafficking
Teens Against Trafficking is centered on giving students the information and tools to identify and define what human trafficking is, steps they can take to prevent trafficking from happening to themselves and their peers, and what they can do if they identify a trafficker or their victim.  The information presented to students falls under the Oregon Health Standards for the Promotion of Sexual Health and the Promotion of Mental, Social, and Emotional Health for 6-12th grade and Title IX. Also, it satisfies Erin's Law– enacted in Oregon in 2015, requiring the development and adoption of child sexual abuse prevention programs for students in kindergarten through 12th grade in all Oregon public schools.
IN OUR BACKYARD has been told by survivors of human trafficking that Central Oregon is a sweet spot for recruiting because of our rural setting and the fact that citizens are naive to the dangers of human trafficking. Victims of human trafficking are often denied the basic human rights of food, safety, shelter, and education. They are abused, controlled, and forced to live and work in deplorable conditions. The emotional, physical, and mental damage that they experience is so deep that survivors suffer for a lifetime in the aftermath of the trauma, even after they are recovered. Youth, aged 12-18 are particularly vulnerable to enslavement by traffickers. The average age of entry into forced sexual exploitation is estimated to be 12-14 for girls, 11-13 for boys.
Unlock Freedom
IN OUR BACKYARD partners with Unlock Freedom, who has generously donated the use of their powerful videos series which IOB has incorporated into the Teens Against Trafficking curriculum. The four videos share true stories of survivors, their vulnerabilities, how traffickers groomed them, and how they were able to get out of their situations and experience healing and freedom. Below is a sample of what students will see in the Teens Against Trafficking
Objectives
Teens Against Trafficking anticipates that youth aged 12-18 who complete the curriculum will not be trafficked for sex or labor in their lifetime. This expectation is based on the following outcomes:
(1) Increased understanding among youth, teachers, parents and service providers of human trafficking indicators and tactics used by traffickers,
(2) Increase in healthy boundaries in relationships,
(3) reduction of risky and/or predatory behavior both in person and online, and
(4) an increased willingness to seek help for themselves or their peers
IOB also expects that every dollar invested in prevention through this program will result in a cost savings of $34 for taxpayers (based on a study by the University of Minnesota, whose estimates were conservative and only accounted for financial burdens as a direct result of being trafficked).4
Teens Against Trafficking helps youth understand the lifelong repercussions of their seemingly temporary decisions. It also helps them understand what is and is not appropriate in relationships so that they can recognize false promises traffickers may make and be strong enough to say, "No," to those who will hurt them. This is excellent preparation for self-protection against predators of all kinds as teens continue their independence after high school. According to the U.S. Department of Education's 2015 guide entitled Human Trafficking in America's Schools, "School personnel are uniquely positioned to identify and report suspected abuse and connect students to services—actions that can prevent trafficking and even save lives."5
Testimonials
"Sex Trafficking is a more common issue than I originally thought it was. This happens at a young age and can happen to just about anyone anytime. This is also an issue that requires someone else to help out a lot. This happening so young really amazed me on how young people can be for this to happen. I am glad that now I know how to help someone and how I can get help.
PS. Probably the best presentation this year. This needs to be taught in all classes. For every school."
-Anonymous Student
"Nita Belles gave a presentation on trafficking in our backyard. The presentation showed examples of what trafficking could look like. I learned A lot of people are tricked into sex trafficking. I also learned that there are two different types of trafficking and human trafficking is the second largest and fastest- growing criminal enterprise in the world. I was surprised to learn that trafficking is more common than I thought it was. It was sad to see/hear examples of all these people who went through this. I now understand why it is important to be aware of your situation and other peoples as well, and if something seems off to take action to prevent the situation from going any deeper."
-Anonymous Student
Endorsements
"Nita and the IOB staff are professional, experienced, caring, thoughtful and connect with our teenagers in positive ways.  They have a strong message and deliver that message with credibility and conviction."
-Nathan Saito, Redmond High School, PE/Health Teacher
"Human trafficking awareness education in our schools is critical to prevent the trafficking of our children. We now know that human trafficking happens in every zip code in the United States, including Central Oregon — IN OUR BACKYARD equips our students, parents, and teachers with the tools to stop it."
-Jill Waskom, Summit High School, Wellness Teacher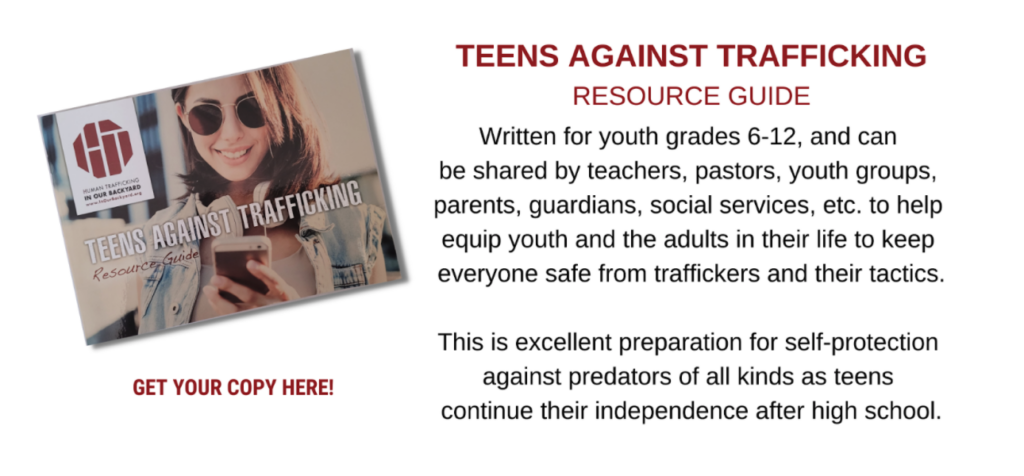 If you would like to have the Teens Against Trafficking presentation in your classroom, please contact:  Kellie at info@inourbackyard.org