What is CSAT?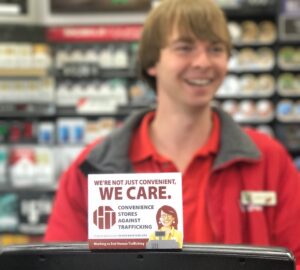 Convenience Stores Against Trafficking (CSAT) is a program of nonprofit IN OUR BACKYARD, engaging the convenience and petroleum industries to play a vital role in the fight against human trafficking. CSAT equips convenience stores with training on human trafficking for their employees and provides life- saving materials to post in stores. Join thousands of convenience retailers across America in support of this important mission!
CSAT partners with c-store retailers, petroleum marketers, state associations, and industry suppliers in 47 states, representing nearly 19,000 locations. The program has been featured in the NACS Community Toolkit and NACS Daily, Convenience Store Decisions, Convenience Store News, Fox News, among others.
Community Heroes: C-Stores Stop Human Trafficking Training Preview
Access the full training video HERE.
*If you are already using RTO, please contact your Account Manager to have this important training added to your network.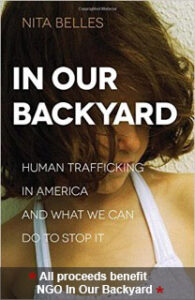 CSAT is a program of IN OUR BACKYARD, a national 501(c)(3) nonprofit known for its anti-trafficking work surrounding the past nine Super Bowls and for the critically acclaimed book by Founder and Executive Director Nita Belles: In Our Backyard: Human Trafficking in America and What We Can Do to Stop It. IN OUR BACKYARD Freedom Stickers are in all 50 states, providing a pathway to freedom for victims of human trafficking.
CSAT Benefits:
Improves Employee Safety: Traffickers not only exploit people, they also exploit locations. CSAT equips employees to respond appropriately and safely.
Improves Store Safety: CSAT deters traffickers because they see that you have taken a stand against human trafficking.
Industry-specific & Customizable: CSAT materials were developed through extensive industry research to ensure alignment with industry operations. Materials can be adapted to suit your unique business needs.
Simple & No-cost: CSAT provides materials pre-packaged for each store and sends them to your corporate office at no charge.
Supports Your Local Community: Human trafficking is happening in your community and you can protect local youth and vulnerable populations with CSAT.
Why C-stores?
C-stores serve half the U.S. population daily, usually have public restrooms, are open long hours, and offer convenience through more than 150,000 locations.

The industry has a unique opportunity to help victims of human trafficking.

Victims of human trafficking report they visited C-stores every day!

40% of Americans – and 45% of women — say that human
trafficking is a cause they would like their local retailer to
address." (Sept. 2018 NACS survey)
90% of consumers say that they think more favorably of
convenience store jobs when they hear that the company
is fighting human trafficking. (Sept. 2018 NACS survey)
CSAT is a no-cost program of national 501c3 nonprofit, IN OUR BACKYARD, and relies on generous donations and sponsorships. Please consider making a donation today!
Thanks to our generous sponsors!